LATEST
NEWS
Moray Tints - Home of tinting in the North
Sep 2, 2014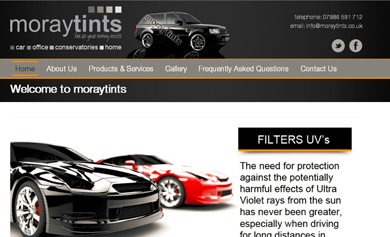 MorayTints is now established as the premier car window tinting Company in the North of Scotland covering an area which stretches from Wick to Oban and from Aberdeen to Mallaig.
Contact us for car window tinting, window tints and tinted windows.
Window tint film is a micro thin layer of polyester, with a durable clear scratch resistant coating. It is the ideal solution to combat excessive heat build up, glare and UV damage. Tinted windows gives protection against these, as well as providing safety, security and privacy for you, your family and your valuables.
The new Moray Tints website is now live at www.moraytints.co.uk